Toufik Dakhia
Adjunct Senior Lecturer at University of Luxembourg | Senior Expert Lean Six Sigma at Learning Factory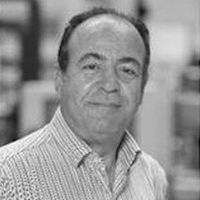 Toufik is a Senior consultant in Lean Management and Six-Sigma strategy with Learning Factory and adjunct Senior Lecturer at Luxembourg University. He has been involved in the development and implementation of Lean solutions for the past Twenty (20) years.
He received his Lean training in a Japanese company (TDK) using the expertise of he Toyota Production System. Toufik has 11 years experience in mentoring training programs in Six Sigma started with SSQI (US Training center) to deploy six sigma strategy at BHP Billiton in South Africa, Mozambique and Australia.
He was involved in several projects and certified nearly 100 candidates from Green to Master Black Belt. His background has been focused on the implementation of a Lean Management strategy, Six Sigma Strategy and Robust Engineering in various companies and has helped each to significantly improve their overall performance.
Experience:
Lean Thinking deployment (Value stream Mapping)
Six Sigma: DMAIC, DFSS, and Robust Engineering (Taguchi Method) Trainer and Mentor role.
Project management and Management change.
TPM and RCM: Implementation of total preventive maintenance and Training and support in Reliability Centered Maintenance deployment
Positions Held:
Technicolor : Manufacturing Manager, Project Manager. New start up (CD and DVD production). Lean concept implementation within the budget and on time.
Delphi: Manufacturing Design consultant . Process design for new products
TDK Production supervisor and Lean coordinator: Seven years in continuous improvement.
Mobil Plastics Maintenance engineer: Troubleshooting and TPM coordinator
Education:
NLP Practitioner certified
Master Black Belt Six Sigma
MBA core courses
ISO and HACCP internal Auditor
CFA: Chartered Financial Analyst study
Industrial engineer
Page précédente